Our Approach to Physiotherapy
We provide powerful tools for therapists to address a broad range of physical problems and help people of all ages to improve, maintain and restore physical well-being and quality of life in a safe and more efficient way.
Musculoskeletal Disorders
Longest's Physiotherapy Solution Will Help
For Patients:
Relieve pain effectively and without side-effects

Restore mobility in a non-invasive and more economical way

Speed up recovery after injury

Boost circulation

Reduce the risk of varicose veins, DVT, and edema

Reduce muscle stiffness and increase strength and flexibility

More comfortable and safe treatment experience

Improve physical function, well-being, and quality of life significantly
For Healthcare System:
High-quality devices and great technical support

Reduce operational costs

Increase service efficiency and capacity

Better patient outcome

Improve treatment experience for both therapists and patients
For Distributors:
Well-received & reliable products with large market potential

Competitive price

Reduced costs (eg. Materials procurement, manufacturing… )

Stable supply

Great return
Longest Shockwave Devices

—— The Most Powerful Shockwave for Better Outcomes
Extracorporeal shockwave therapy (ESWT) is a highly effective treatment method for various musculoskeletal indications and soft tissue injuries by providing high-energy acoustic waves.
THERAPEUTIC BENEFITS
Relieve pain

Reduce muscle spasm

Improve range of motion

Speed up injury healing

Enhance circulation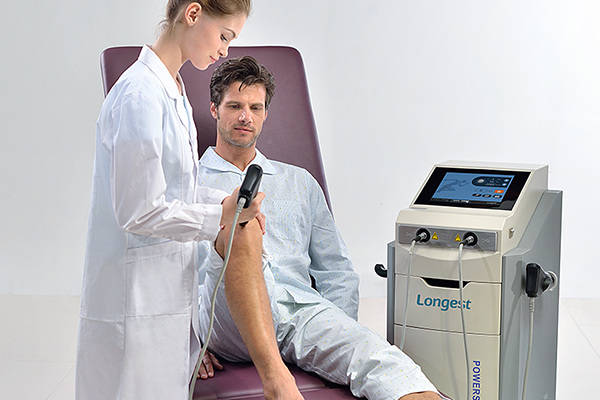 Longest Compression Therapy Devices

—— The Leading Pneumatic Compression Technology
An intermittent pneumatic compression (IPC) device consists of an air pump and inflatable sleeves with multiple air chambers. The sleeves are inflated and deflated on a timed cycle to create intermittent pressure on arms, legs, and other body parts, supporting the heart and circulatory system and promoting the healthy movement of blood in your body.
Improve the function of peripheral blood vessels

Remove the edema and swelling

Accelerate the healing process

Preventing muscular dystrophy

Massage and relax stiff, sore, fatigued, and painful muscles

Promote lymphatic drainage

Relieve pain
Chronic venous disease

Lymphatic diseases

Sports Recovery

Post-surgical rehabilitation

Wound and ulcer healing
Longest Electrotherapy Devices

—— The Latest Technology For Pain Relief & Muscle Training
An electrotherapy unit usually consists of a small battery-powered device, electrode wires, and adhesive electrode pads. The device helps relieve pain by delivering electrical impulses via electrodes placed on the skin to interfere with the transmission of pain signals into the brain and also stimulate the body to release natural painkillers called endorphins.
Relieve pain

Prevent muscle atrophy

Improve circulation

Repair tissues and speed up wound healing

Strengthen muscles
Stroke

Multiple Sclerosis

Facial nerve palsy

Paraplegia

Traumatic brain injury

Cerebral palsy

Knee arthrosis

Hip arthrosis

Sports injury
If you are interested in our products or have any questions, fill out and submit the form below. We will get back to you as soon as possible. Thank you!
[contact-form-7 404 "Not Found"]