Description
| | |
| --- | --- |
| Chamber |  4 |
| Compression mode |  6 |
| Time |  1min-99min |
| Pressure |  30-150mmHg |
| Rechargeable battery |  Yes(Battery Life: more than 6 hours) |
| Adapter |  Yes(15V 6A) |
| Input voltage |  AC 100-240V 50-60Hz |
| Dimension |  270(L)×148(W)×128(H)mm |
| Weight |  1.65KG(without battery) |
Standard Accessories
| | |
| --- | --- |
| Adapter 2.5M (Power cord included) |  1pc |
| Connection hose with double connectors |  1pc |
| Carry Bag |  1pc |
Optional Accessories
| | |
| --- | --- |
| Rechargeable battery (6500mAh) |  1pc |
| 4-chamber arm sleeve – Small Size |  1pc |
| 4-chamber leg sleeve – Small Size |  1pc |
| 4-chamber leg sleeve – Medium Size |  1pc |
| 4-chamber leg sleeve – Large Size |  1pc |
| 4-chamber jacket – Small Size |  1pc |
| 4-chamber waist + thigh – Small Size |  1pc |
| 4-chamber calf + foot sleeve – Small Size |  1pc |
| 4-chamber full body – Small Size |  1pc |
1. When should I use it?
LGT-2200SP improves blood circulation, promotes lymphatic fluid movement, helps remove lactic acid, and improves flexibility thus stimulating recovery and enhancing performance. You can use it after a long day of sitting, standing, traveling, anytime your legs feel sore, or whenever you feel you need to get the best recovery.
2. How long do I use it?
The recommended use time is 30 min per time, 2 times per day. Do not exceed 20 minutes in the first treatment. For someone's first treatment with this device, we suggest starting the treatment with 5 to 10 minutes. Longer is not necessarily better, especially after 30 minutes. There is no harm in treating longer, but you get all the benefits you need within 30 minutes of using the pump, even after a long race or intense workout.
3. Why the sleeves is not full when it inflates at first?
There is a pre-inflation lasting 30 seconds when starts working, which can accelerate the cycle inflation time. Namely, in the first circle, whichever modes you choose, each chamber in the sleeves will only inflate for 30 seconds and then continue to the next chamber, no matter if it has inflated into the working pressure.
#1 Compression Therapy Device for Sports Training 
 Remarkable Effects, Better Way to Recovery after Exercising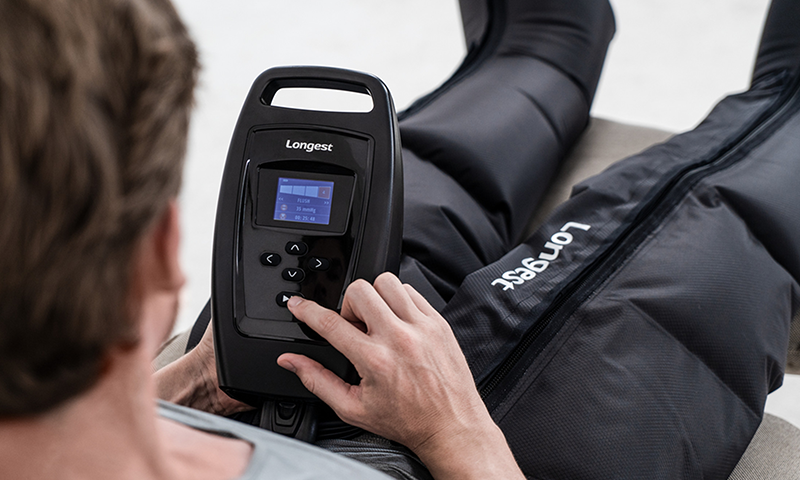 Treating Pain & Reduce Swelling
Whether you're an elite athlete or just someone who spends long periods of time sitting, standing, walking, muscle or joint aches and pains are almost unavoidable.
This air relaxation system uses inflatable sleeves that apply pressure to the legs, hips, or arms, which helps improve blood flow, enhance the lymphatic and venous systems, remove lactic acid, and combat soreness, inflammation, and swelling.
This compression system is also good for pregnant women as they will experience aches and swollen legs during pregnancy.
Increasing Flexibility
Have you felt that your muscles or joints are always stiff? Do you want to fix that?
Well, pneumatic compression therapy is an excellent way to help increase your flexibility. The compression of muscles actually relaxes them and the surrounding tissue and helps improve your range of motion.