Description
How It Work
Longest weight loss electrical muscle stimulation device LGT-2320 sends low-frequency currents to stimulate muscular contraction in deeper muscle fibers that we usually fail to activate while exercising. The muscle contractions last a few seconds at a time, but the effect is remarkable, especially when used in conjunction with exercise. This best EMS machine can not only help remove the stubborn cellulite, but also improve the endurance, explosive force, and strength of muscles.
The electrical pulse can also effectively improve the endocrine system and boost metabolism to achieve weight loss and skin tightening. The bioelectricity generated by the EMS machine can provide deep tissue massage to dredge the meridian, accelerate the lymph drainage, enhance blood circulation, boost physical immunity and remove edema.
As the fat deposits are targeted and the contents of the stubborn fat cells are emptied out of the body (due to the improved overall circulation), cellulite is gradually removed and the skin gets tighter. Continued use of this EMS device will more definitely help achieve the full removal of cellulite.
Benefits of EMS
Decrease waist circumference, abdominal obesity, and body fat mass

Reduce cellulite

Remove stretch marks

Strengthen muscles 

Contour the body

Enhance and lift breast

Improve blood flow

Tighten skin

Support lymphatic drainage

Speed up the removal of toxins from the body

Reduce swelling and water retention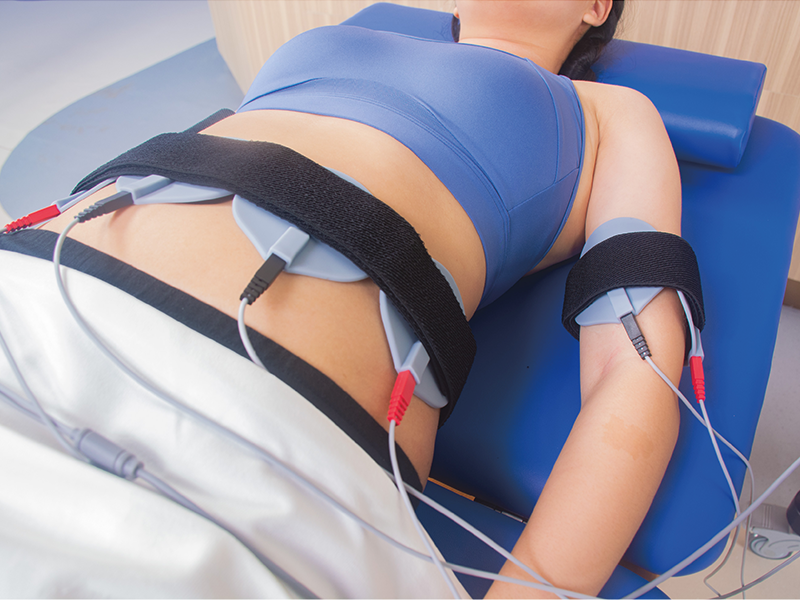 Channel                                      12
---
     Treatment Mode                        9
---
     Pulse Duration                    220-250 μs
---
     Pulse Frequency                  55-113 Hz
---
     Intensity                                0-120mA
---
     Treatment Time                   1-99min
---
     Speed                        Slow, Medial, and Fast
---
    Dimension                         392×365×217mm      
---
    Weight                                       5.7kg