Description
7 Training Modes
With seven training modes, including warm-up exercise, endurance exercise, strength exercise, muscle shaping, explosive force exercise, pain relief, and relaxation massage, the users can customize the program according to their various treatment needs.
---
Multi-devices Connection
As many as 4 devices can be connected to the mobile APP, allowing different treatments simultaneously, significantly increasing efficiency. And mobile smart connection enables the visualization of the treatment process.
---
Small & Portable
Dimension: 55mm×16mm (main unit)
Weight: 60g (only main unit)
---
Smart Identification
Auto-identification of pulse width & intensity according to the user's condition
---
Customize Programs
Parameters such as pulse duration, frequency, intensity, and time can be adjusted to different treatment needs.
---
Longest muscle stimulator MStim Sport LGT-232 stimulates muscle fibers and contracts muscles forcefully to improve endurance, rapid reaction, explosive force, and muscle strength, and can automatically adjust pulse duration and intensity, providing positive results for fitness training, muscle regeneration, and rehabilitation.
Body Shaping & muscle building

Relax muscles and relieve pain

Increase endurance, strength, explosive power
| | |
| --- | --- |
| Channel |  1 |
| Pulse Duration |  200-400μs |
| Pulse Frequency |  1-120Hz |
| Intensity |  0-100mA |
| Time |  1-60min |
| Battery Life |  More than 4 hours |
| Rated Power |  6VA |
| Dimension |  55mm×16mm (main unit) |
| Weight |  60g (only main unit) |
| | |
| --- | --- |
| Power adapter |  1pc |
| Charger box |  1pc |
| Self-adhesive electrode with magnetic connection:50mm×50mm (square) |  4 pcs |
1. What are TENS, NEMS, and MCR?
TENS is transcutaneous electrical nerve stimulation and it is non-invasive electrotherapy mainly for pain relief. NMES is neuromuscular electrical stimulation that directly stimulates surrounding motor nerves and causes muscle contraction. MCR is microcurrent therapy and it can mimic the body's natural current (Current Of Injury) and stimulate a dramatic increase in ATP, the energy that fuels all biochemical functions in the body.
2. How many treatment sessions could cure the indications?
It varies from the severity of the patient and should be confirmed by the professional therapist.
TENS for Pain Relief
Attach the pads directly to your skin and switch on the device, small electrical impulses are delivered to the affected area of your body.
The electrical impulses can not only interrupt pain signals from going to the spinal cord and brain, helping relieve pain and relax muscles but also promotes the release of endorphins. These are the body's natural painkillers.
It helps reduce pain caused by a wide range of conditions, including:
Arthritis

Knee Pain

Neck Pain

Sports Injuries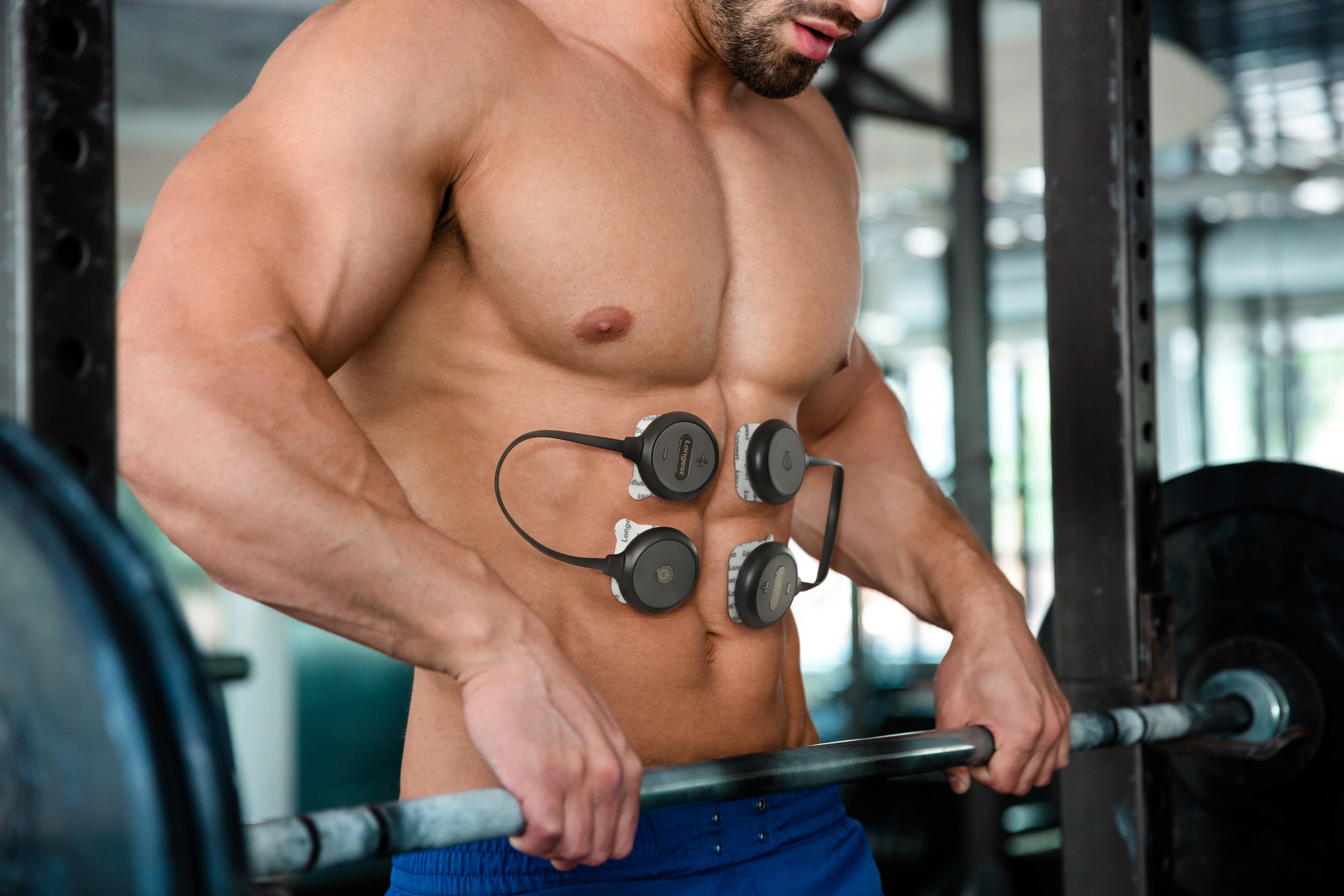 NMES for Better Training Effect
When attached to the skin, the device sends electrical impulses to the body's motor nerves, causing rapid muscle contraction. These contractions can help: 
More muscle fibers activation

Muscle strengthening

Speed up muscle recovery time

Maintenance of muscle mass and strength during long-time immobilization

Retraining of selective muscle

Reduce inflammation

Control of edema
Neuromuscular electrical stimulation (NMES) can also be used to prevent muscle atrophy associated with prolonged keen immobilization due to ligament reconstruction surgery or injury and prevent the decreases in muscle strength, muscle mass, and the oxidative capacity of thigh muscles as well. 
4 Devices Used Simultaneously 
As many as 4 devices can be connected to the APP and used at the same time, improving efficiency substantially. And the device comes with 4 colored fasteners, which makes it easier to identify different devices you use for different purposes.