Description
LGT-233 provides the foot with dorsiflexion through electrically stimulating muscles in the affected lower leg. It comes with two treatment modes – train mode and walk mode.
Train mode is the transition from passive training to walking training for patients who are unable to perform active training. This mode can be selected for muscle training while sitting or lying down, to accelerate muscle recovery, slow atrophy of the injured calf, maintain and improve range of motion in the ankle, and enhance local blood circulation.

Walk mode is electrical stimulation that is performed while walking to restore neuromotor function; It can help to maintain a normal gait when walking, stimulate during walking, and repeated training will leave traces on the cerebral cortex. At the same time, it will feedback to the central nervous system and restore brain neuromotor function.
Facilitate muscle re-education

Prevent or retard disuse atrophy

Maintain or increase joint range of motion

Decrease pain, and increase the blood flow of the treated area.
| | |
| --- | --- |
| Mode | Train Mode, Walk Mode  |
| Pulse Duration | 50μs-500μs |
| Pulse Frequency | 1-120Hz |
| Intensity | 0-100mA |
| Time | 0-60min |
| Battery Life | More than 4 hours |
| Rated Power | 6VA |
| Output Waveform | Symmetrical biphasic pulse |
| Dimension | 59(L) × 59(W) × 22(H) mm |
| Weight | 60g (only main unit) |
| Warranty | 24 months |
| | |
| --- | --- |
|  Electrode lead hose |  2pcs |
|  Self-adhesive electrode with magnetic connection: 50mm×50mm |  4pcs |
|  Leg Bandage |  1pc |
|  Power adapter |  1pc |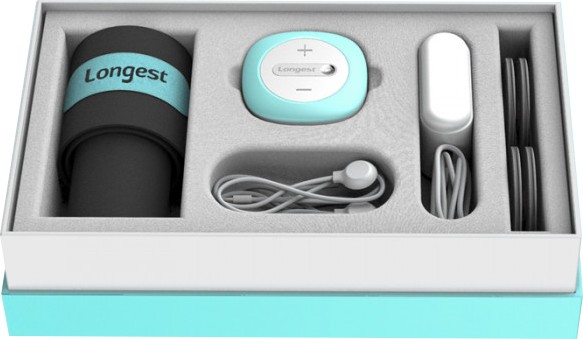 1. What is FES?
Functional Electrical Stimulation, or FES, is a method of externally controlling muscles when signals from the brain can no longer control movement. This can happen after a spinal cord injury, stroke, or neurological disease such as Multiple Sclerosis. FES improves the quality of life for patients with neurological disabilities across the globe. The most common application for FES is the correction of dropped foot. Stimulation is applied to the outside of the leg using self-adhesive electrodes causing the muscle to contract and the foot to lift; select the image to expand.
2. Why should you choose MStim Drop LGT-233?
Actually, it is a potential market for foot drop. Walking impairment is one of the most common dysfunctions that affect the ability to perform activities of daily living in stroke patients. More than 70% of hemiplegic patients can regain walking ability, but most of them do not achieve good gait and walking speed, which becomes the biggest cause of future falls. Lower extremity motor dysfunction is one of the more serious factors affecting the activities of daily living in stroke patients. Patients with stroke are prone to abnormal gait during walking due to reduced motor muscle strength, poor control, and muscle spasm, increasing the risk of balance disorders and falls.
3. How many treatment sessions could cure the indications?
It varies from the severity of the patient and should be confirmed by the professional therapist.